How To Build A Sophisticated Mobile Search Strategy
Share
Growing Organic SEO & Distributing Content Through Mobile Channels are top priorities for marketers according to State Of Inbound 2016. A sophisticated mobile search strategy delivers both. Here's how to do it.
HubSpot's latest report, State Of Inbound 2016 is a survey of 4,500 respondents from over 132 different countries. One of the most interesting takeaways from this years report was that the majority of those surveyed had 2 priorities: 1. "growing SEO/organic presence" & 2. "Distributing content through predominantly mobile channels". Delving deeper into the report one thing is readily apparent, Mobile and Search are at the forefront of modern marketers minds,
If everyone's marketing efforts are being focused on mobile then you absolutely must make sure your Mobile Search Strategy is in order.
errr...mobile search strategy?
If you haven't got a Mobile Search Strategy, well... lets help you put one together. Here's a simple(ish) hit list of things you need to consider to to #Win with Mobile Search.
1. Mobilegeddon
Unless you've been living under a marketing rock for the last 2 years you'll have noticed Google released an algorithm update back in early 2015 that specifically affects mobile rankings (affectionately called Mobilegeddon among those in the SEO hype circle jerk...). I even wrote about it a while back. Long story short, if your site doesn't adhere to Google's mobile best practice guidelines, you won't fair particularly well in mobile search results.
Check your site to see if it falls under Google's definition of "Mobile Friendly". If it isn't move on to point 2.
2. Mobile Friendly Fun
If your site has to be pinched squeezed or squinted at on mobile, then things need to C̶h̶a̶n̶g̶ change. It's time to redesign that site.
#SixSeasonsAndAMovie
You've got 3 main options when it comes to mobile friendly design. I won't waste time explaining each one, Google have already done a far better job describing them and their benefits. Just click the links for more info :)
In order to pick the right solution for you, you need to think about who your audience is. 9 times out of 10 responsive design is the simplest to implement, it's cheaper and is the least risky of the 3. However it doesn't offer the richest mobile UX compared to the other 2 options. If you run an eccomerce site or the majority of your traffic comes from mobile and you want to offer a bespoke mobile user experience, maybe put some time and money into Separate URL or Dynamic Serving or even a Responsive Site with a separate mobile app.
3. Different Devices
They way different devices render websites can be pretty varied, as its all dependent on aspect ratio size, make, model and operating system. Make sure you test your site thoroughly across a number of devices. You can use an emulator like BrowserStack, or for some in depth real world testing that will really impress your client or boss, find a local Open Device Lab in your area and test to your hearts content!
4. Speed
Attention spans on mobile are painfully small, this means that you need to deliver your website/content as quickly as possible to your users.
A slow TTFB will harm your rankings on desktop as well as mobile, and a sluggish page load will offer up a poor UX on mobile. If your site takes longer than 3-4 seconds to load on mobile i'm gonna go somewhere else. Simple as that.
Use page speed inisghts or webpage test to see how your site fares. N.B. With webpage test - make sure you select a test location that's indicative of your users location (the default location is set to Dulles, Virginia.)
5. Search Console - Mobile Usability Issues
When was the last time you delved into Google Search Console? Ah, you still call it Webmaster Tools... So a while huh? If you open your account today, head to Search Traffic > Mobile Usability, you'll find a whole section that will highlight the specific mobile usability issues plaguing your site. If you're lucky there'll only be a few bits and pieces that need fixing, like sizing your link spaces and tap targets appropriately.
6. AMP (Accelerated Mobile Pages)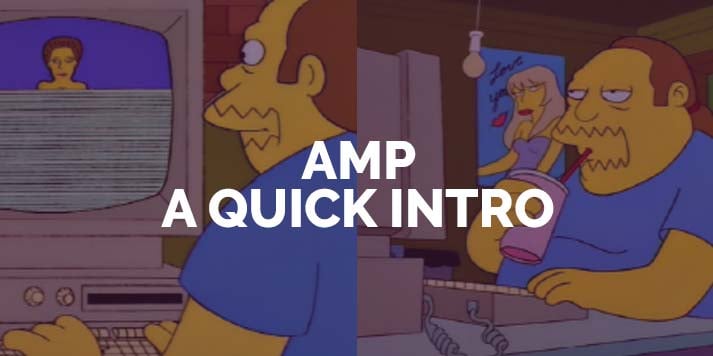 Ste wrote a pretty nifty blog on AMP a few months back. If you're a bit lazy and don't fancy reading Ste's blog (you should give it a read, it's not massive). AMP is a way of delivering web pages in a fast and streamlined manner specifically for mobile devices, the clues in the name...
At the moment AMP is really only ideal for informational static content like news and blogs, but that's no reason to not invest in this cutting edge framework for your own content. Take a look at Google's Webmaster blog to learn how you can easily implement AMP on your WordPress, Drupal or Hatena CMS.
7. Got an app? Get that shizz indexed!
Apps are everywhere these days, IMO there's too many of them.
Back in 2015 there was all this uproar and hype declaring apps were dead! Whereas 2016 research shows that demand for apps is at an all time high. Love em or hate em, Apps aren't going away anytime soon.
Unfortunately as with many aspects of the digital landscape, supply vastly outweighs demand. For every good/useful app, there are hundreds if not thousands of useless ripoffs and poorly designed clones. It can be extremely difficult to stand out amidst all of that App based dirge & detritus.
If you want to make sure your App is as visible as possible and actually gets some downloads, make sure it's indexable by Google. In doing this Google will start to show links to your app download page in mobile SERPs.
Check out Firebase App Indexing (formerly Google App Indexing) for instructions, if you're not technically minded just fling the link at your app devs, they should be able to sort it 👍
8. ASO (App Store Optimisation)
We've talked about getting your app noticed in search results, but did you know there's a few ways to increase your visibility in the App stores themselves?
Similar to traditional SEO, App marketplaces have there own conversion and ranking factors that you need to adhere to. For more in depth info see this unbelievably useful guide from Kissmetrics.
9. Local SEO
A lot of searches on mobile devices (88% of searches to be precise) have local intent, that's a fact. When you actually delve into the root of these local and mobile searches you often find that they're driven by a particular type of user behavior, wants and needs.
When Google talks about user behavior they talk in terms of real time "Micro-Moments". I want to go, I want to know, I want to buy moments. In these moments consumers research and expect to be confronted by businesses and brands providing relevant info in real time. If you're site isn't mobile friendly, or you don't have a Google My Business listing or optimised local profiles, well... you're not going to be visible during these Micro-Moments.
Get your Local SEO in order and start optimising your local search presence today, download my Local SEO Checklist.
10. Voice Search
According to Beshad Behzadi (Principal Engineer at Google Zurich) Voice Search is THE fastest growing type of online search, and has even surpassed typed search. In a study conducted in 2014, Google found 55% of teens and 41% of adults use voice search more than once a day (those stats are most likely a lot higher these days).
So how does this rise in voice search affect us as marketers? Well firstly, we need to be mindful of the way people use voice search. Voice search by its very nature is conversational, before most people would save time with a typed search query and just type "calories big mac", whereas with voice search there's a dialogue between you and Siri/Google/Cortana etc. so the search query would most likely be "how many calories are there in a big mac?". This doesn't sound like a big deal but it shows that optimising pages around a few target keywords won't really cut it for SEO in the future. These more natural phrases mean we'll be focusing a lot less on exact match keyword optimisation but rather aim for long tail semantic/contextual keywords in our content and copy.
As mentioned above micro-moments become really important when thinking about voice search. Most voice searches are made because of an immediate want or need for information, so how are you going to deliver that information during your users, "I want to know moment"?
Ideally you should answer those type of conversational questions quickly and concisely, there's no point whipping out a 1500 word article if it doesn't get to the root of what the individual is searching for in the first paragraph. J.F.D.I. then S.U.M.O!
You need to also make sure that your answer is quickly accessible to search engines. To do this make sure you utilise schema structured data markup as much as possible for your local business information, blog posts and articles, events, products and personnell. Serve that tasty info up on a plate to search engines.
---
If I were you I'd bookmark this blog, I'll try to update it as much as possible in the coming months/years so that you can use it as your very own mobile search guide.
If you want to checkout Hubspot's State Of Inbound report for yourself, just click the download below.
Share
Inbound Manager @ Noisy Little Monkey, Josh blogs about SEO, Local & Mobile, HubSpot and Inbound Strategy.
Meet Josh Baldwin